If you're submitting your Medicare claims through NGS (National Government Services) or NGS CEDI, there are a few important things you should know about how NGS operates.  Every Medicare Administrative Contractor (MAC) works in a unique way and has certain rules for how to submit your claims, receive your payments, and troubleshoot any issues. If you're not familiar with your Medicare Administrative Contractor or you're a bit confused, we'll explain. Depending on which state you're operating in, you submit your claims to a particular MAC.
At RAPID Healthcare Solutions, we offer connections to every MAC (including NGS and NGS CEDI), so you can always give us a call if you're not sure which MAC is yours. Here's a map to help you determine which MAC you submit to: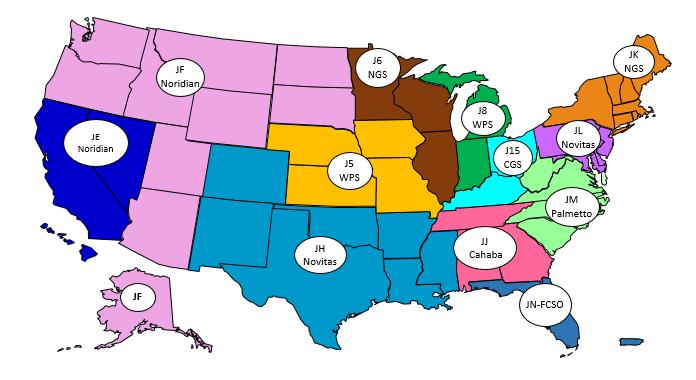 NGS is a little bit different. NGS provides Medicare connectivity for Connecticut, Illinois, Maine, Massachusetts, Minnesota, New Hampshire, New York, Rhode Island, Vermont, and Wisconsin. If you operate out of one of these states, you likely submit your claims to NGS. However, NGS also provides connectivity to the Common Electronic Data Interchange, more commonly called CEDI. NGS CEDI provides the connection to Medicare for all DME suppliers, regardless of where in the US they're located. So if your facility supplies durable medical equipment, you're probably familiar with CEDI.
If you're having issues with your claims, or have any questions related to Medicare, here's some basic info:
NGS EDI (J6 jurisdiction) Help Desk: 877-273-4334
NGS EDI (JK Jurisdiction) Help Desk: 888-379-9132
NGS CEDI Help Desk: 866-311-9184
Help desk hours: 8am-5pm EST, Monday-Friday (except from 2-4 pm on Thursdays for training).
NGS Part B password reset: http://www.ngsmedicare.com/ngs/portal/ngsmedicare/edi
NGS CEDI password reset: http://www.ngscedi.com/ngs/portal
Password requirements: Like many MACs, NGS requires that you reset your password every 60 days. These need to be 8 characters long, including one uppercase, one number, one special character, and cannot be a word or name.
Click here to visit NGS's "About Us" page
Click here for NGS CEDI's "FAQ" page