If you're submitting your Medicare claims through First Coast, there are a few important things you should know about how First Coast operates.  Every Medicare Administrative Contractor (MAC) works in a unique way and has unique rules as to how you should submit your claims, receive your payments, and troubleshoot any issues.If you're not familiar with your Medicare Administrative Contractor, or you're a bit confused, we'll explain: depending on which state you're operating in, you submit your claims to a particular MAC. At RAPID Healthcare Solutions, we offer connections to every MAC (including First Coast), so you can always give us a call if you're not sure which MAC is yours. Here's a map to help you determine which MAC you submit to: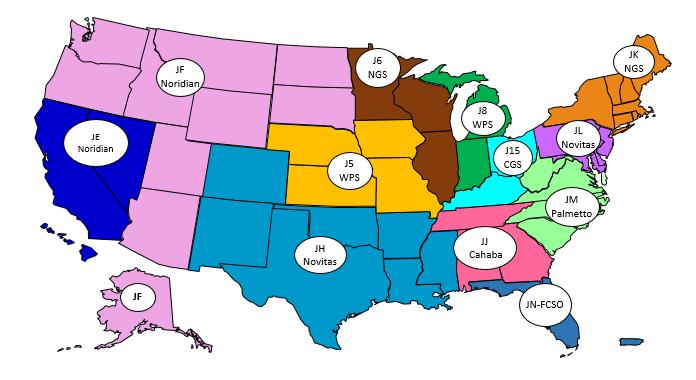 First Coast is the MAC for the entire state of Florida. Should you have any issues related to Medicare, you can call their EDI help desk from 8-4pm EST M-F at 888-670-0940. For general EDI assistance, you can email them at MedicareEDI@fcso.com. For DDE assistance, email FSCODDE@FCSO.com. For PCACE help, email PCACE@fcso.com. For other troubleshooting or to reset/check the status of your password, check out medicare.fcso.com
There are a couple things about First Coast that make it a bit different than other MACs. Along the way, we've learned some technical tips and tricks to make your claim submissions as smooth as possible.
Your FCSO password expires every 60 days. If you're having trouble connecting, give their EDI help desk a call or visit medicare.fcso.com to reset your password. You'll need your mailbox ID and current password to do this.  You will need to verify your NPI and PTAN number to make these changes as well.

The new password needs to be 8 characters long, and contain a mix of uppercase letters and numbers. It must be different from your last ten passwords, and be different by at least 4 characters.

Sometimes FCSO will allow you to "log in", even if your password is incorrect or expired. However, it won't fully connect until you try to actually submit your claims or download reports, so you may get a password error

after

you've logged in.
Another important tool that FCSO users have access to is SPOT. SPOT, or the "Secure Provider Online Tool," is a free web-based application hosted through the Centers for Medicare & Medicaid Services' Enterprise Identity Management (EIDM) portal.
https://medicare.fcso.com/landing/256747.asp
You can keep track of benefits/eligibility data, claim status, payment data, remit advice, secure messaging, and create data reports in one spot–all through the First Coast EDI Website.
Here's where you can register for SPOT:
https://medicare.fcso.com/faqs/answers/241528.asp?WT.ac=PromoR1_SPOTNew&WT.ad=Homepage%20Banner
If you have any further questions that haven't been answered by the FCSO website or EDI Help Desk, please give our tech line a call at 855-643-2251 or email us at rapidhelp@ecctec.com.